Heavy Rains Are Turning U.S. Corn Fields Into Lakes
by Megan Durisin
, Jeff Wilson
, and Brian K Sullivan
May 22, 2017, 12:13 PM EDTMay 23, 2017, 12:01 AM EDT
From
Parts of region got double amount of normal rainfall recently
Two more storms forecast this week after weekend showers
The Coming Storm of Climate Change
Some Nebraska corn fields are so flooded that farmers are posting videos of themselves wakeboarding. The image is amusing, but the realities of the heavy spring downpours are pummeling U.S. grain farmers with soggy fields and threats of crop disease.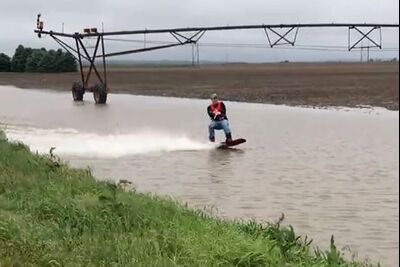 Nebraska farmer Quentin Connealy wakeboarding on flooded cornfields.
Source: Quentin Connealy
In the past 30 days, about 40 percent of the Midwest got twice the amount of normal rainfall, with soils saturated from Arkansas to Ohio, according to MDA Weather Services. While spring showers usually benefit crops, the precipitation has come fast enough to flood some corn and rice fields and trigger quality concerns about maturing wheat.
https://www.bloomberg.com/news/articles/2017-05-22/u-s-corn-fields-turn-into-lakes-as-spring-deluge-floods-midwest